Fortify
---
Fortification is a defense mechanism that unlocks at City Center Level 5. After fortify process, certain buildings gets surrounded by spikes that reduces all damage done to the Fortified build. There are 4 levels of Fortification and each level reduces the damage received by a percentage.
You can only Fortify you Defensive Towers, your City Center and your Stock Piles.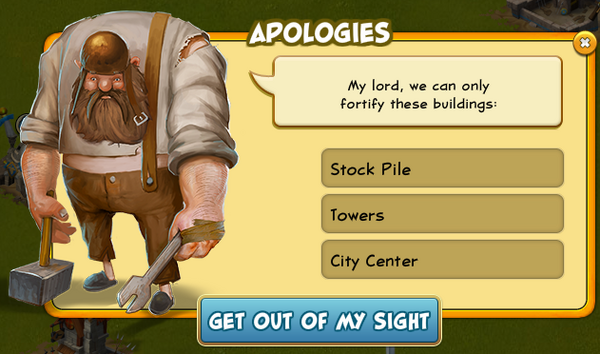 ---
Damage Reduction values and required City Center level.
| Level | Damage reduction | Required City Center level |
| --- | --- | --- |
| 1 | 20% | 5 |
| 2 | 30% | 6 |
| 3 | 40% | 7 |
| 4 | 50% | 8 |
---
Archer's Tower
---
Bombard Tower
---
Burning Mirrors
---
Beast Cannon
---
Flamer Tower
---
Gatling Arrow Tower
---
Sky Tower
---
Stock Pile
---
City Center
---