Longbowman Squad
---
"Six bowmen raining arrows from afar. No discrimination off targets!"
The Longbowman Squad is a squad of 6 archers shooting arrows at enemies. These are the first ground mercenaries with ranged attacks. They have "Favorite Target: Anything" and will attack the first building that is closest to them. For some strange reason the will break walls instead of just shooting over them. These mercenaries don't take up barrack space. Longbowman Squad can be produced in the Blacksmith.
---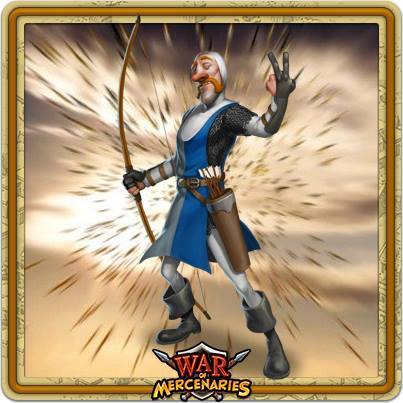 ---
The Longbowman Squad is an Event Item which can only be unlocked at the Event Store. You will need to gain Event Points in the Event to be able to unlock the Event Items.
---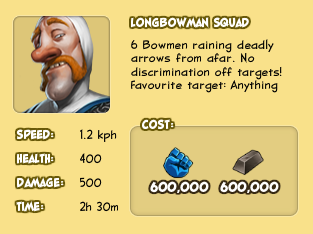 ---
Update
In the 2014-04-07 Update the Longbowman Squad can now be upgraded up to level 6. The Longbowman Squad can be upgraded in the Training Chambers.
Source: http://forum.peakgames.net/showthread.php?17950-Update-details-Trainable-Event-Items
---
---
| | | | | | | |
| --- | --- | --- | --- | --- | --- | --- |
| Level | 1 | 2 | 3 | 4 | 5 | 6 |
| Might Cost | n/a | 4.096K | 7000K | 12000K | 18000K | 24000K |
| Gold Cost | n/a | 495 | 606 | 719 | 931 | 1058 |
| Training Time | n/a | 1d | 1d12h | 2d | 4d | 5d8h |
| Req. Chamber lvl | n/a | 1 | 2 | 3 | 4 | 5 |
| Movement speed | 1.2 kph | 1.2 kph | 1.2 kph | 1.2 kph | 1.2 kph | 1.2 kph |
| Health | 400 | 600 | 700 | 800 | 900 | 1000 |
| Damage | 500 | 525 | 550 | 600 | 650 | 700 |
| Cost in Resources | 600K | 650K | 700K | 800K | 900K | 1000K |
| Prepare Time | 2h30m | 2h13m20s | 2h | 1h30m | 1h | 40m |
---
Longbowman Squad Tips
---
---