Samurai Team
---
"12 greedy warriors from far east. Reporting for looting sire!"
Samurai Team is a team of 12 looter mercenaries that can be deployed into battle. The Samurai can't be deployed individually, they have "Favorite Target: Resource Buildings" and have same behavior like all other looters mercenaries. These mercenaries don't take up barrack space. Samurai Team can be produced in the Blacksmith
---
---
The Samurai Team is an Event Item which can only be unlocked at the Event Store. You will need to gain Event Points in the Event to be able to unlock the Event Items.
---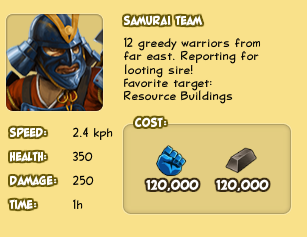 ---
Updates
The 2014-04-07 update introduced 6 levels for the Samurai Team. The Samurai Team is now trainable in the Training Chambers.
Source: http://forum.peakgames.net/showthread.php?17950-Update-details-Trainable-Event-Items
---
---
| | | | | | | |
| --- | --- | --- | --- | --- | --- | --- |
| Level | 1 | 2 | 3 | 4 | 5 | 6 |
| Movement Speed (kph) | 2.4 | 2.4 | 2.4 | 2.4 | 2.5 | 2.6 |
| Health | 350 | 400 | 500 | 600 | 800 | 1000 |
| Damage | 250 | 250 | 275 | 300 | 350 | 400 |
| Cost | 120K | 150K | 180K | 200K | 225K | 250K |
| Hiring Time | 1h | 53m20s | 50m | 41m40s | 33m20s | 30m |
| Training Cost (Might) | N/A | 1024K | 2056K | 2870K | 4500K | 6000K |
| Training Time | N/A | 12h | 16h | 20h | 1d16h | 2d12h |
| Req. Training Chamber level | N/A | 1 | 2 | 3 | 4 | 5 |
| Train with Gold | N/A | 324 | 394 | 443 | 580 | 684 |
---
Samurai Team Tips
---
---